The Camel … is an animal with a unique and different physiological constitution than any other animal...
A veterinarian with knowledge of camels is therefore needed but so far there is no such veterinarian for camels in the Sinai region.
Methods of the Bedouins
Bedouins, especially the elderly, have a lot of knowledge about illnesses and diseases in camels.
The methods they have are: medicinal desert plants and pressure points.
But for more serious illnesses and diseases, these methods are too limited to cure and treat camels.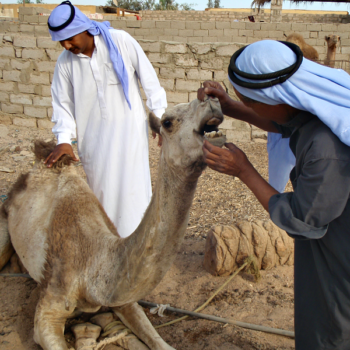 Medicinal plants:
Bedouins make extensive use of medicinal plants from the desert for oral use and for external use such as herbal compresses. For example, some desert plants, such as Samwe, are also a natural antibiotic.
Pressure points:
Bedouins also use a healing technique via pressure points, with many symptoms and diseases they know the corresponding pressure points on the body.
However: they singe the pressure points with hot iron.
Note: they also apply the singing of pressure point with hot iron to themselves.
The singing of pressure points with hot iron is very painful and outdated and it's because they have no other means in case of more serious diseases.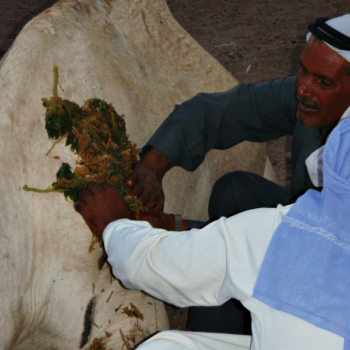 Wound care:
Camels are prone of their sensitive skin.
The team of the Foundation specializes in wound care.
A number of ingredients play the leading role in this:
– Love & patience.
– Sea water
– the desert plant Samwe, a natural antibiotic
– but certainly also the wound spray from the Netherlands has already cured many deep and dangerous wounds : Acederm!
– and the woundspray CTC from the Netherlands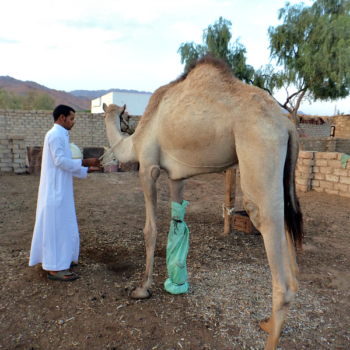 Co-operation Egyptian veterinarian in Caïro specialized in working animals

In October 2016 & 2020, in response to the Castration / Gelding Project (unique in Sinai!) Dr. Mohammed from Cairo came especially for the Foundation a week to Dahab.
Besides gelding 10 camel bulls, there was also an educational training from Dr. Mohammed as well as home visits both in Dahab and in a Desert settlement where several camels were examined and treated!
Dr. Mohammed not only answered all our questions during the training, but we also learned a lot, including a few real eye-openers!
Together with Dr. Mohammed we also visited a local vet clinic for cats and dogs.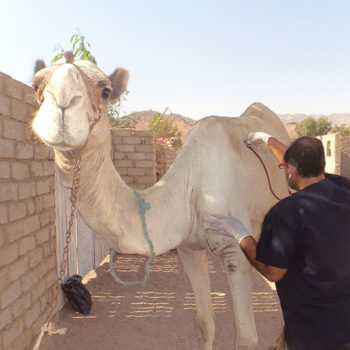 In Dahab there is an Egyptian female veterinarian, Dr. Amira, and a government vet Dr Atef, both mainly for the (stray) dogs and cats.
Both vets have however little to no knowledge about camels and they do not dare to inject camels.
Fortunately, some Bedouins have taught themselves how to inject camels under the skin.
Nevertheless, after Dr. Mohammed's training we can now turn to either of those two vets for ordering medicines for simple illnesses:
If worms are suspected, we can order and buy an Albendazole 5% cure in Dr Amira's vet clinic or through the gov vet Dr Atef, thanks to the information provided by Dr. Mohammed.
In case of scabies (contagious skin disease), we can order and buy Ivermectin medicine at either of the two vets, including disposable injection needles.
We can also order and buy at either of the two vets medicines against mild diarrhea and digestive disorders.
For the Basics4Camels project – arise after Dr. Mohammed's training – we can also contact Dr Amira or Dr Atef for ordering Butox (Deltamethrine 5%) which is needed to spray the soil and the camels against internal and external parasites.
And of course, we can also always contact Dr. Mohammed as well for ordering medicines that he can send from Cairo to Dr. Amira in Dahab.
Some health problems at Camels:
– dental problems
– papillea problems
– eye problems
– abscesses due to inflammation
– contagious skin conditions caused by in-and external parasites
– worms
– different forms of diarrhea
– arthritis in older camels
– digestive disorders (not wanting to eat and/or drink)
– stomach/intestinal problems such as colic
– throat and respiratory tract problems such as various forms of cough
– fever & pneumonia
– virus diseases
– sprains and bruises
– overall discomfort due to stingflies
– problems when giving birth