The Adoption Program started in 2012 and contributes everything to the survival of camels and thus also to a Bedouin culture that is under great pressure!
And is therefore the largest project of the foundation.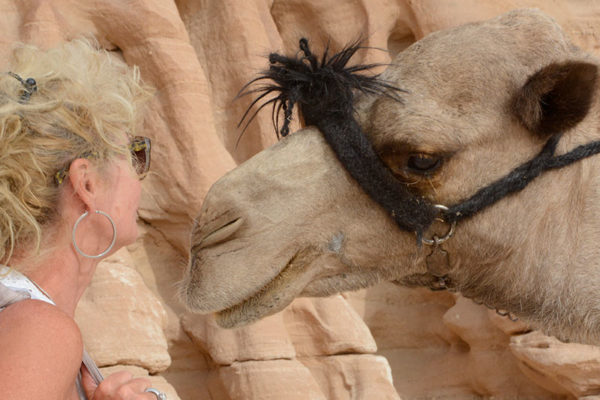 The Origin & Why an Adoption Program
At the beginning of 2011, Egypt experienced a revolution which was the beginning of economic instability and a total collapse of tourism, even though everything was and is safe in South Sinai.
Even though tourism is slowly starting to pick up again, economic instability still applies and many Bedouins have also struggled too long to survive.
And when things are bad for humans, then for animals it is many times worse…
Many Bedouins have already been forced to sell their beloved camels to slaughter, resulting in a bedouin culture under even greater pressure and with a shortage of healthy, reliable camels suitable for participating in nomadic desert treks in ecotourism.
This doesn't apply to the camels & their owners in the Adoption Program! And that's why the Adoption Program is so important…
For a complete picture about the situation in South Sinai & Dahab: 2011–Present
Cost basic Livelihood of Camels versus multiple Adopters
With the still rising cost of livelihood for Human and Animal in Egypt, the cost of livelihood for a Camel has reached an average of 90 euros per month.
That is why one Camel always has multiple adopters.
If a Camel has been adopted for 75 euros per month, the foundation considers its adoption completed, even though it is always possible to opt for that camel.
If you want to know more about the living costs of Camels  take a look at Food Support
How to Adopt

Minimum for 1 year, notice period 3 months, so the Foundation can search new adopters in time, should you stop
Minimum adoption amount is € 10.- per month
You can transfer your chosen adoption amount per month or for a whole year in one time. The easiest way is to set this on your own internet banking environment. The Foundation does not do debit authorizations.
Please inform us by e-mail :
– which Camel you want to adopt.
– for how much you'll adopt him/her.
– whether you'll  monthly or for a whole year in one time
– your name, adress and e-mail so we can thank you and send you updates about your Camel!
Mail to: welkom@stichtingdalel.org
Don't forget to set your amount on your own internet banking environment!
Details adoption payment:
PAYPAL, see our donate button in the footer of this website.
Or:
Iban accountnumber:
NL20 RABO 0136 4896 56 – Stichting Dalel – Hoogvliet – The Netherlands
BIC (Swift) Code: RABO NL2U
What's in it for you?
Besides a Happy Camel, you also contribute to a Bedouin culture which is under great pressure!
At the start of your adoption you will receive the life story of your Camel plus all existing updates in both Word and Image.
Every summer you will also receive an annual update about your Camel in Word and Image. Are you on Facebook? Then you can also follow your Camel on the Facebook page of the Foundation!
Do you participate in a DesertJoy trek (again), or are you in Dahab? Then of course I will show you how and where your Camel lives in Dahab!
And of course your Camel – depending on which one you have chosen – is also your Camel on trek! www.desertjoy.nl

Adopting with multiple people:
The foundation is always looking for adopters.
You also are welcome to search for people: for example adopting a Camel with a group of friends, with your sports club, your family, with a class….
Choose from the following Camels, each one has its own special story...
I choose a Camel in the prime of his life!
Because there is a shortage of healthy, reliable camels!
So his owner has an income from his own, endangered culture and can also pass this on to the younger generation!
I choose a retired Camel and give him/her a good old age!
Because retired Camels also fill the gap because with good, healthy old age a retired Camel will even enjoy working (adapted) so that he / she continues to get the much needed exercise in his natural habitat, the Desert!
I choose a young Camel and give him/her a good start!
Because this camel will soon fill the shortage of healthy camels!
Thanks to the foresight of the foundation, not only seven camels were saved, but in 2012 there were five yearlings who now fill the gap!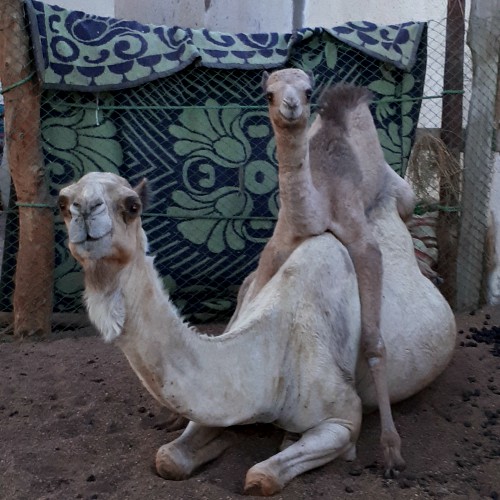 ♥ Playful Dalèle
Dalèle from Joyce was born on 28 December 2018 after a troublesome pregnancy for mother Jamila.
When Joyce in 2017 heard that Silmèn would like a son of his camel bull Shailèn, Joyce decided to let Jamila mate with Shailèn one more time again because Jamila always had given birth to boys. Mating would also solve Jamila being in heat for years. The idea was that if she would give birth to a boy again, this foal would be for Silmèn.
But fate decided otherwise … it became a girl, Dalèle! And what a girl!
Dalèle is a loving, fearless girl who already gives Jamila and her past a lot of healing.
As the last foal of Jamila, Dalèle is of course named after her spiritual father Dalèl, in the female form.
We already experienced a lot with Dalèle, such as dropped fetlock which is finally cured, she even finished her riding training! We hope that she will produce beautiful foals just like her mother and if her first foal becomes a boy, we already know who this foal is for!
Because Dalèle is from Joyce, she has her own page on the DesertJoy website.
♥ Shy Mabruk
Mabruk is our newest & youngest addition to the Adoption Program.
He was born on 18-2-2019 and is 1.5 months younger than Dalèle. He couldn't no longer be sustained by his owner.
Mabruk is the first born of his mother, his mother didn't have enough milk and because his mother also lost weight quickly during milk production, Mabruk had to be set seperate from his mom early as well.
Mabruk is therefore behind in his development and is still small for his age.
However, because both his father Shailèn and his mother are both reliable and sweet Camels and because there are so few good Camels left and we also have to take into account the ages of 3 old retired Camels, the Foundation nevertheless decided in December 2019 to buy Mabruk and replace him with his father Shailèn from Silmèn, Khaled and Ahmed!
He now gained weight and finished his riding training! So he will make up for the shortage of good Camels and thereby contribute to a Bedouin culture which is under pressure!
Mabruk didn't have a name all that time, but Khaled and Ahmed gave him the name Mabruk which means Blessed / the Blessed. So we hope his name will also helps!
THANK YOU FOR CHOSING ONE OF US!