By nature, the Camel is a hardy animal.
The downside to this is that a camel will not easily show if something is wrong with him.
But the big upside is that much can be achieved with camels through prevention!
Therefore, Basics4Camels is all about prevention.
It is precisely in Dahab that there is less and less space for keeping and housing Camels, which means that camels are often kept in a (too) small space. This increases the chance of internal and external parasites, especially during the summer months.
Prevention is therefore even more important.
What does prevention mean:
– good and clean drinking water and daily basic feed.
– regular cleaning and removal of soil in the corrals.
– spray-cleaning of both the soil and the camels themselves.
– new bedding at least once a year.
– if worms are suspected: a worm cure with Albendazole
– if an excess of other internal or external parasites is suspected: a cure or vaccinations with Ivermectin (Avimec).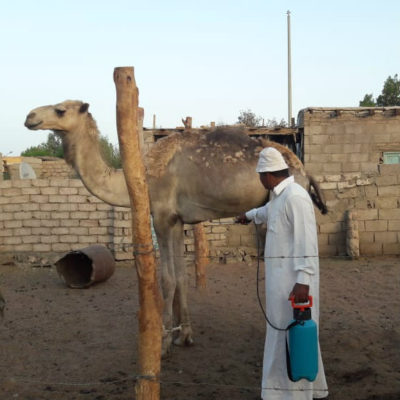 Cleaning & Disposal:
Mucking out the soil is a tough job in Dahab's hot, humid sea climate. Many owners cannot physically cope with this or need at least some help with it.
The Foundation helps by hiring workers.
After mucking out the corrals, the soil has to be removed by means of hiring a truck. The Foundation also helps here.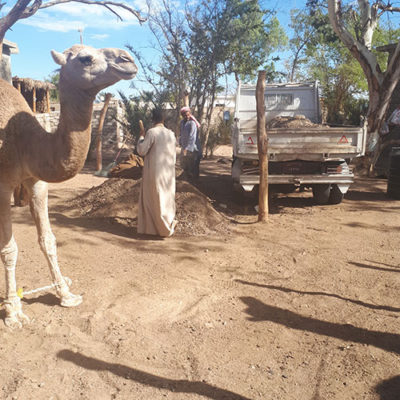 Spraying:
Pressure sprayers and Butox are required for spray-cleaning both the soil and the camels.
The owners can do this themselves: they can borrow a pressure sprayer from the Foundation and the Foundation provides Butox.
New bedding:
The Foundation helps with the costs for 0.5 or 1 cubic meter of new sand, which arrives per truck. The owners can then spread the new sand themselves by wheelbarrow.
Vaccinations & cures:
The Foundation provides anti-worming treatments and Avimec.
What else falls under Basics4Camels:

– A sea bath for camels is very good for removing external parasites. This is of course only possible in the warm months, from mid-April onwards and costs nothing (yeah!).
– repair or replacement of water pump motors for the camels' drinking water.
– repair or replacement of fences so that camels can continue to roam freely in their own fenced corral instead of having to be kept tied.